from ... Steven Frossard
Salut everyone. It was difficult to recover after the Grand Prix in Brazil. I had hurt my finger in the USA, we then went straight to Indaiatuba and then came back to France.

The fly-aways were two different experiences for me. Glen Helen was pretty bad and I was disappointed to lose the red plate but Brazil was better with some nice racing at the front until my hand started to hurt in the second race. I didn't ride after Brazil because I had a lot of pain. I had made an x-ray in America and the doctor said nothing is broken but I had the ligament around my thumb stretched and the best way to let it heal was with time but coming back to Europe we then had only a week before starting three Grands Prix in a row! It has been a frustrating time trying to get to 100% because if I want to ride during the week then I am making the recovery period longer and longer.
The Brazilian fans were crazy, almost like the French public and it was exciting to think that I had my home GP so close. I spent my time before St Jean D'Angely at my apartment in Lyon doing DIY! I did some plastering and the truth is that I used the time and the activity to empty my head. No bikes, no thoughts of racing. It was a good distraction. It was hard work but I liked it and I think I have an idea for what I will do when I stop motocross! I've yet to paint the walls but that it another job for another time.
I went to the cinema with Lesly, who is an estate agent and works a lot as she is on commission. Actually we try to go once a week and the last thing we saw was the film 'Thor'. It was pretty good. Otherwise I was cycling and running and doing a lot of physical work.
So, as you can imagine there was some pressure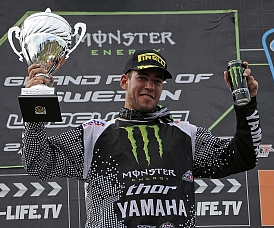 in St Jean D'Angely. Honestly the only time I feel any expectation is when I'm on the bike and I know what I am capable of. Off the track it was okay to deal with. There was quite a lot of attention in France but then it is always like this because the fans are soo good to the riders. Sometimes it can be difficult to balance everything but I always try my best because putting on a show for the public is part of the job. I was in the Motoclub Angerien for four years so I knew a lot of people there. It was a cool weekend. Saturday wasn't that great but Sunday was perfect!
I had good starts in St Jean and I felt strong and fast. It seemed really easy. When I start badly I see 'red' and perhaps go a bit too mad as I want to win. When I'm at the front then I can find the pace that I am comfortable with and I know exactly what I need to do to win. If I can go to St Jean again for the Motocross of Nations it will be a really crazy time with a huge crowd. Hopefully I can make it! After St Jean I celebrated by buying my friends in Lyon a round of ice-creams! I felt good after winning my home GP but the sensation didn't last long because the next round was only seven days away and I wanted another 'taste'.
My training mechanic drove the camper to Portugal for the next race and I took a plane. I felt tired after Agueda because my finger was hurting again and I couldn't ride. The track was so bumpy and difficult in Portugal; my hand took a lot of punishment compared to St Jean. I was with my mechanic in the camper and we couldn't really head to the beach that much because two guys together on the sand is not really a cool thing! With my girlfriend is a different matter. Coming to La Bañeza I thought the track was small and slow but with a good start again I could chase Cairoli and it was a great feeling to beat him in that first moto. Unfortunately I had a 'moment' with Desalle in the second and had to work hard to make some positions. In the end I was just able to make the podium.
We had another short break before three GPs in three weeks again. Lesly and I stayed with a friend of mine for two days in a town near St Tropez. The weather was perfect, really hot and I went out on the jet-ski but had to stop riding it after fifteen minutes because the thumb-operated throttle was not doing my hand any good. It was great to get away for those two days and then I was back into the routine of cycling and running and thinking about Sweden, where we are now.
The season is going fast. Even though there are lots of races ahead I have the feeling it will be over before we know it. We are now in the middle of summer and for sure we cannot take any holidays but normally Lesly and I go somewhere on the other side of the world come the end of the year. In 2010 we went to the Maldives, so we will have to find somewhere like that again.
Copy and photos courtesy of Yamaha Racing