with ... Steven Frossard
Making his debut in the MX1 Class, the Frenchman has now won two Grand Prix's and is closing in on series leader Antonio Cairoli. It takes a special rider to enter the Class in his first season and produce two GP wins from the first eight races. In the past it's only been riders like Cairoli and Ben Townley who have been able to match that type of performance.
Despite suffering from some injuries, Frossard looked in complete control of his rivals at the Grand Prix of Sweden last weekend. Putting together two moto wins he is clearly the man of the moment. Now in third place in the series points and just 22 points behind Cairoli and 12 points behind second placed man Clement Desalle, the 2011 MX1 Championship is wide open.
Frossard, with five moto wins, has one moto win less than Desalle and two more than Cairoli. Had it not been for his disastrous Grand Prix of United States, where he only scored 11 points, would the Yamaha rider now be close to leading the series points?
For Youthstream, Marionna Leiva caught up with Frossard after his win last weekend:
Steven, you looked so strong last weekend. Can you explain your weekend for us?
I like this track, but it's a difficult place. In my heat I tried to ride easy and stay focused and I took a good start, so it was easier to make a good result today. I had a little pain in my shoulder from Antonio's bike hitting me when he crashed in the first moto. I was lucky I think. I kept my good condition after Glen Helen, and now I tape my wrist better and it feels less pain. The second moto was better than the second moto in Spain, I am happy with this result.
Tell me about your injuries?
In Spain I had two problems, first blisters on my left hand and a problem with a finger on my right hand, ligament damage and a small piece of bone is broken and that causes a lot of pain inside. It was difficult for me to ride very well. At the start of the weekend it is okay, but as the weekend gets longer, it gets more difficult. In Spain I did a very good first moto, but the second moto I had so much pain, it was unbearable and also the blisters.
Why do you think you got such big blisters?
I think because I have pain on one hand and I only use my other hand, because my hand sometimes slips off the handlebar due to the pain, so I am holding on really tight with my other hand and that causes blisters. I don't think about it when I am riding, but I think that is the problem.
You must be happy with the way you are riding now?
Yes, but in the start of the season I was really good on the bike and my condition was also good, but then I crashed in Valkenswaard and hurt myself and now I always have some type of injury and it makes it difficult in my head, because I can't ride the way I like to ride. I think I am not 100%, but I think I will be sooner or later. As a racer you always have something, this year I only had Bulgaria where I felt 100%. I don't know about other riders, but it's been difficult for me this year.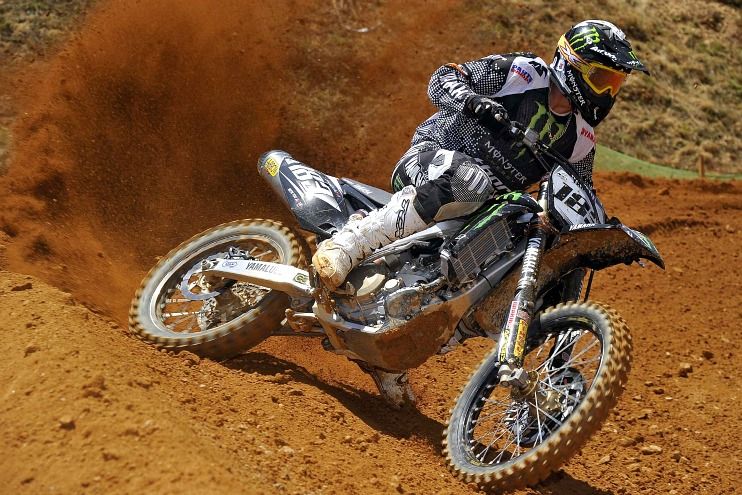 Photo: Steven Frossard - Massimo Zanzani image.
Thumbnail - Yamaha Racing image.
Are you thinking about the Championship, you are just 22 points away from Antonio Cairoli for the lead?
I don't think about the Championship, I just think about each race, I am here in the MX1 class to learn, it's my first year in this class. Next year we will look differently I think.
Did you expect to be so strong this year?
After Bulgaria I knew I could win. In the winter I knew I was fast, but I didn't expect this, I didn't expect to be so fast, being top five was what I expected or maybe fight for the podium, but to win Grand Prix's, no I didn't expect that, but now I have a lot of confidence to win.
Can you tell me the strong points of Cairoli and Desalle?
Antonio takes good starts and he is very fast at the end of the motos. That last eight or something races he pushes well at the end and it's very good for him. He has the chance to win every time. In Spain he pushed me a lot, but he made a mistake and I could win, if he hadn't made that mistake, he would have won. Desalle is very strong this year, I think he is mentally strong, because in Holland his speed wasn't so good, and he said he prefers to finish fifth and make good points, he is very good this year.
What has been the biggest disappointment for you so far this year?
In USA I made a big mistake and I started badly and I was so angry, I have to learn more in this class.