with ... Valentin Teillet
The former European Champion has fully recovered from the shoulder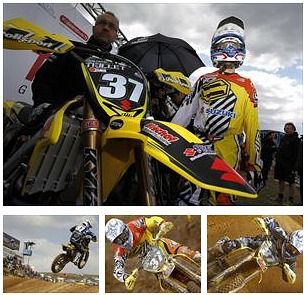 injury he suffered at the opening meeting in Bulgaria and competed for the team at Aichwald for the fourth race of the German ADAC MX Masters last Sunday. The 20 year old Frenchman will be searching for his first GP points as a Suzuki racer.
The Uddevalla circuit is located less than 100km north of Gothenburg and is a tricky combination of undulations and turns with a terrain that mixes between hard-pack and fine soil that can become very rough in sections. Normally providing a quick lap, the Swedish course is an apt 'warm-up' for a similar challenge to be faced by the Grand Prix riders a week later at Teutschenthal for the German stop on the calendar - and Suzuki Europe MX2's home event.
An early weather forecast for the weekend predicts cloudy but warm conditions with the chance of rain in northern Sweden.
Valentin, feeling ready for your GP return?

Yes, very much. It feels like a long time to wait after the crash in Bulgaria in April. I'm feeling back to normal and very keen to get back on the track. I rode in Germany last week and was pleased with my riding. I made a couple of mistakes at Aichwald but set my best lap-time on the last lap; it felt great to be in a race again and has made me even more excited about this weekend. Two weeks after the injury in Bulgaria I was already feeling better and was able to do some physical training so for sure I am in good shape now.
It must have been hard to miss your home Grand Prix in France and then also the races back-to-back in Portugal and Spain...

Of course it was a big disappointment. Together with the team we made the decision nine days before the GP and it was a tough one because I was on the edge of being ready but wasn't 100%. It means I have missed quite a few races now but I have my head and goals clear for the rest of the year.
Any revised expectations for the second half of the campaign?
It is more about what I can do every weekend rather than looking at anything long term. I have talked with Thomas [Ramsbacher, Team Manager] and I want to aim to do my very best and soon be going for the top six. I will need to build into it and I want to start with two top-eight finishes in Sweden this weekend. If I can manage that then I will be happy"
Uddevalla; your thoughts?
Really good. For me it is one of my best tracks. It is a pretty difficult circuit because the grip can vary so much from place to place but I enjoy racing there. I should have had more luck in the past two years when I had a crash and also broke a wheel but I'm hoping that will come right this weekend.
Copy and photos courtesy of the Team Suzuki Press Office.