Auto Blog's Jeff Glucker said this about the
Kiwis
Rod and son Rhys Millen - bonus video after Monster's.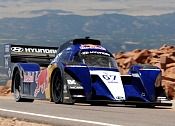 Rhys Millen
and his RMR Hyundai-powered PM580 ended the day with disappointment. For the second year in a row, mechanical issues caused Millen to run far slower than he's capable. Millen's brakes gave out with around four miles left in the course, which would be a game-ending occurence for lesser drivers. Rhys plugged on, and passed the finish line in 10:09.30. Rhys believes he was losing two seconds per corner due to the damaged stoppers, so the time was surprisingly quick for the hampered PM580.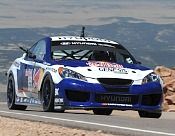 Rod Millen
, returning to the mountain for the first time in more than 10 years, managed to set a new record in the 2WD Time Attack Class. Millen used his son's Formula Drift Hyundai Genesis Coupe and ran from bottom to top in 11:04.912. After the race, the elder Millen said this would most definitely be his last year to compete at Pikes Peak, although he greatly appreciated his son's invitation to drive the mountain one last time.