from ... John McGuinness

McGuinness' legendary machine was nominated in the '100 Years of the Isle of Man TT Mountain Course' class and although it narrowly missed out on the category award, it did receive the prestigious accolade of 'Biggest "Wow" Factor'. This was judged not only against the other motorcycles in the TT class, but against every vehicle entered in the overall event – including a number of rare and exclusive automobiles from the world's most esteemed manufacturers.
The judging panel, which included Motorcycle News editor Marc Potter, was impressed by the Honda Fireblade's remarkable history. The awesome machine powered John McGuinness to his 15th Isle of Man TT victory in 2009 – a record that surpassed the legendary tally of Mike Hailwood to place John as the second most successful TT racer of all time behind the late Joey Dunlop.
In the same year and on the same machine, McGuinness broke the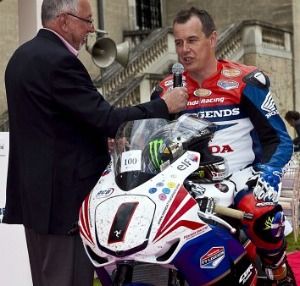 existing outright lap record with a 130.442mph lap before making history again that week by setting the fastest lap ever recorded around the TT course – 131.578mph – a speed still unbeaten by any other rider.
At the 2011 Isle of Man TT the same Fireblade, resplendent in the all-new Honda TT Legends livery, saw McGuinness storm to victory in the Superbike and Senior races, taking his tally of wins to 17. His performance on the Honda CBR1000RR Fireblade firmly reinforces the model's position as a legend in its own right – a fact recognised by the Salon Privé Concours d'Élegance judging panel.
Marc Potter, who acted as the head judge for motorcycles said: "The judges felt that John McGuinness' Honda TT Legends Fireblade encapsulated the real essence of the Wow Factor award at such a prestigious event. Not only is the Fireblade a beautiful motorcycle but with the flies still stuck to the front of the bike as it finished this year's Isle of Man TT, it was a crowd pleaser all day. The bike is purposeful, stunning to look at and with the kind of detailing that makes a winning TT machine, it was a worthy winner of the award in such esteemed company."
Copy and photos courtesy of Honda Pro Racing.
---
A behind-the-scenes video of the Honda TT Legends team in the 2011 Isle of Man TT Senior race as they go from pre-race preparations to post-race celebrations. John McGuinness secures his 17th and Honda's 160th TT win.