with ... Harry Nolte
Youthstream's Geoff Meyer catches up with Rui.
Having worked with many of the leading teams in the paddock, including the Factory Kawasaki team, the KTM factory and now the Monster Energy Pro Circuit CLS Kawasaki team, Nolte has a lot of knowledge in the sport.
With all the rumors about Christophe Pourcel signing with the Monster Energy Pro-Circuit Kawasaki team, we thought it was time to give Harry a call and ask some questions. Obviously with nothing official and in fact nothing signed we didn't get much information, but enough to make this an interesting interview.

Harry, first up the last month has been a mixed one. Tommy Searle wins a Grand Prix in France and Ben Townley goes home with health problems. How does the team feel at the moment?

I have mixed feelings really. I mean, we are very happy for Tommy but sad for Ben. Tommy is riding well and had it not been for what happened to him in Portugal (having a piece of trackside fencing stuck in his back wheel), we would be right in the points for the Championship. Of course we feel we can battle for the Championship, the next three rounds are going to be really important for us. I mean, we need to get some wins now and our bikes will suit the next three tracks. I think only Lommel will be a difficult race and Jeffrey will be hard to beat in Lommel.

Tommy seems to be making up some ground as both Ken (Roczen) and Jeffrey (Herlings) are making mistakes. What is your opinion?

They both are making mistakes, but those guys are racing at such a high level and high speed, so yes they are making mistakes.

Finally Tommy got a holeshot in Spain; the bikes seem to be a little more on the level of the KTM's out of the start?

We worked really hard on that, on everything, the gearing, the power, those kind of things, and it looks like it's a lot better now.

And Ben, can he come back after yet another health issue?

We actually don't know, that is the question at the moment. I really hope so, I mean, everyone is really disappointed at the moment, of course he is very disappointed and we are, everyone is. I always believed in him and I still do, but he wants to go back to New Zealand and sort out the problem.

You obviously had that World MX2 Championship success with him in 2004 and working with him now. What is different about Ben Townley from 2004 and Ben Townley in 2011? He seemed so much happier and having fun in 2004, but now he seems a little like a bottle of champagne about to explode, he is so intense now.

Ben is a guy who always has to win, he is the sportsman who always has to win and things are difficult for him at the moment. But I think you realize that it isn't going well and we tried to support him in every possible way, but it isn't working out, he has a concentration problem and he needs to work that out.

He is asking too much of himself?

He isn't so much different from 2004 in my eyes, but now maybe he gets more intense because he tried really hard to get back on his level and you saw it in France that he still can do it, okay, he crashed on that last lap, and he was really tired. He decided not to ride that week and then we went to Portugal and he came in and said he can't focus on the riding, so that is more or less what happened and he decided to fix that first and try and get that focus and concentration back.

Can you mention about the new rider in the team, the replacement for Ben?

You know all the rumors and I don't have to mention any names. For sure he won't be in Sweden, but if something happens, then you will see the rider in Germany, but that is all I can say at this moment.

Whoever you sign and if the rumors are correct, then is that also a risk. I mean, the team signed Ben and everyone thought it was a good move, but there was always the risk factor. Any other rider including somebody like Pourcel would also be a risk or not?

It is, but we have to replace Ben, and we need an MX1 rider because of our sponsors. I mean I don't know Pourcel, I've never worked with him, I don't know him personally, so I can't say.

Mitch has worked with him and has a high opinion of him.

Yes, Mitch has worked with him and they are good friends I think.

Do you have other options?

We have other options, but let's wait and see what happens.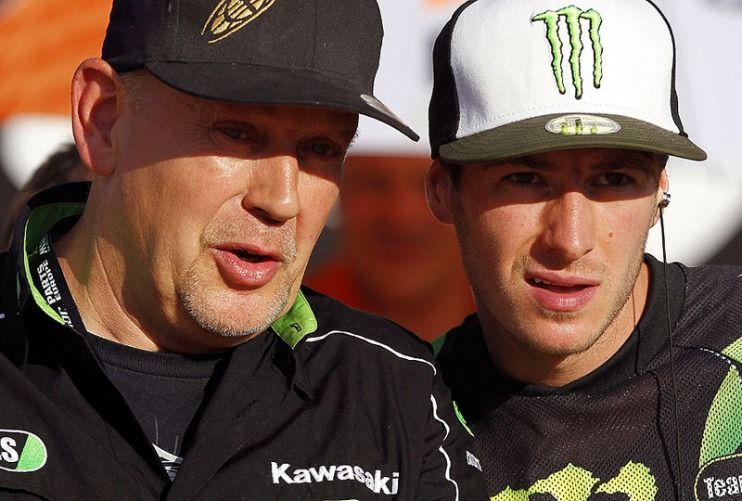 Photo courtesy of Youthstream. Harry Nolte and Tommy Searle. Geoff Meyer image.


What about Max Anstie, are you having with his results?
Yes, Max is doing great, just a pity he crashed in Portugal and the bike landed on him, he was unlucky there. We tried to race but he had too much pain in his lower back and hip. I think he is okay; he wants to go riding tomorrow.