with ... Rachel Fluharty
Rachel Fluharty
, is JG Off-Road Racing team's PR girl. JG Off-Road Racing is owned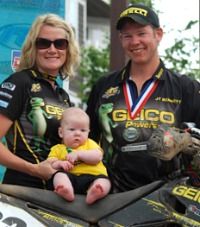 by JT and Gretchen Bennett.
JT started out as a privateer rider, working hard to build his racing career and is a former multi-time AWRCS Champion, GNCC Amateur Class Champion and ISDE competitor. After 17 years of racing, the Bennett's decided to start their own team as a chance to stay involved in racing and give back to the sport. JG Off Road started in 2009 and strives to provide strong results in all aspects of racing. Bennett has built a solid partnership with GEICO Powersports to give the team a winning outlook and a hard to beat attitude.
Friends of Paul and Katherine Whibley, the Bennetts gave Kiwi Enduro rider, 24 year old Rory Mead, the opportunity to 'fill in' for an injured Jimmy Jarrett on their team. Rory returns to the Team for the Snowshoe GNCC on 25 June and the John Penton GNCC on 10 July.
Gretchen catches up with Rachel to see what she's been up to since her last GNCC race.
The Bennetts
Gretchen: Hey Rachel how are you today?
Rachel: Hey Gretchen! I'm doing pretty well! This week is finals week for my first summer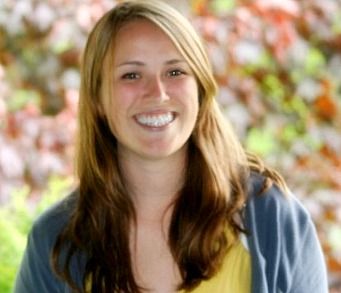 semester, and then I take the second part of my teaching certification test on Monday. So, things are pretty crazy right now with school. Most weeks I love it, this week- let's just say I'm not the biggest fan.

How much longer do you have before you graduate?

I just finished my first year of graduate school, and I have one year left. Basically I'll go to school the second summer session, and take another full load in the fall, and then I'll do my student teaching in the spring and graduate in May 2012. When I graduate I'll have my masters and certification in elementary education.

That's a lot different from what you used to do with the racing scene. Rachel Fluharty How did you get started with that?

I was in journalism school at West Virginia University, and one of my professors had done a story on Racer X. She told me it was a great company to work for, and that I should see if they had any internships. I guess it was fate because that day, an internship was posted for Racer Productions for someone to write PR, and I immediately e-mailed Jason Weigandt to ask about the internship.

Had you been interested in racing before?

I knew literally nothing about the racing world. The first day of my internship Weege sat me down and had me watch old videos of races so I could get used to what I was going to start writing about. The first day I recognized one of the ATV riders- Adam McGill! We went to the same church when we were much younger.

That's cool that you at least knew someone! So when did you start going to the races?

My very first race was Steele Creek 2009. That is a really cool track and I'm really happy that's where I got my feet wet- literally and figuratively! After that I went to almost all of the GNCCs, as well as the Outdoor Nationals and a few ATV MX.

And then in 2010, you decided to go back to school?

I decided to go back to school that summer to become a teacher. I know that seems like a far cry from what I had been doing, but I had spent a lot of time working with kids in high school and college and I really missed it. That summer I took an entrance exam for the M.A.C. program and was accepted. I've been in school each semester since then.

What else do you do besides school right now?

Well, with the program I'm in, it's pretty important that you pick a specialization and my goal is to specialize in special education and reading. For experience, I do in-home therapy for a young child with autism every week. It's definitely challenging, but rewarding. I'm pretty fortunate to do a lot of different things, I think.

Why did you decide to work with JG Off Road?

I wanted to keep my writing chops while I was still in school, so I gladly accepted an offer to write post-race reports. Plus, it's just a lot of fun. I always enjoyed talking to the JG Off Road crew at the races, and the team is wonderful. Even if I can't get to the races all the time, it's always great to catch up with the team after their rides and see how it went.

Why did you decide you wanted to keep doing race PR, even after you decided to go back to school?

Even though I didn't know much about racing, I fell in love with the GNCC family. I wanted to stay involved in the sport in some way, and this was the perfect avenue for that. I'm happy that I get to stay a part of it.

What's your favorite thing about working for JG Off Road?

The JG Off Road program gets bigger every year and I love all the new things that have been thrown my way, especially this season. I still do the post-race reports, but now there's Wednesday Wrench and I get to write content for the website. It's hard to say what my favorite thing is because each component of what I do is a lot of fun. I like that I get to talk to the team pretty much every weekend to hear about their races. With Wednesday Wrench, I get to talk to some old friends and meet new people. I'm a people person by nature, so getting to talk to people makes me happy!

How long has it been since you were at a race?

I actually haven't been to a race since the Snowshoe GNCC last year! Life has a tendency to get in the way, and I work every weekend. It's been far too long.

What do you miss most about going to the races?

I miss the starting line. That was always my favorite part of the race. I always like watching the families gather around the riders as they get ready to go off into the woods. There's a certain electricity in the air right before a start. Of course I miss hearing Rodney yell "Ten seconds." But I think I can go the rest of my life without hearing Baba O'Riley. HA! Just kidding, Rodney. I miss the people the most. You won't meet better people than the people that come to GNCC races.

Will we see you anytime soon?

I'll be at Snowshoe on Sunday! The Snowshoe GNCC has always been my favorite because I'm a West Virginia girl so I always try to make it to that. I'm really looking forward to seeing everyone!

That's great! We'll see you Sunday!

See you then!