from ... Mika Ahola
HM Honda Zanardo's Mika

Ahola fights on in Greece

Sun, high temperatures, dust, sweat and tears made the GP of Greece (18-19 June) in the beautiful Greek island of Kalambaka-Meteora, an epic battle for supremacy in the Enduro World Championship standings.

Located in northern Greece, Kalambaka-Meteora is part of the UNESCO World Heritage Site. It has twenty-four monasteries built on natural rock towers and is considered a haven for peace throughout the year. But when the fight for the prized E3 World Championship rolled in, that peace was all but shattered!

After two victories in last week's Turkish Grand Prix, the GP of Greece saw Mika Ahola take two 3rd places. However, these 3rd places would have seemed like a victory of sorts for Ahola, who was suffering from an intestinal infection and was far from his best form.

He was in-fact forced to make several "unforeseen" stops across the two days of competition, stops that cost him valuable time and removed the chance of going for the outright victory. A victory that would go to his closest rival, Christoph Nambotin on both days, and that would eat into Ahola's commanding championship lead somewhat. Things are certainly not finished just yet in E3.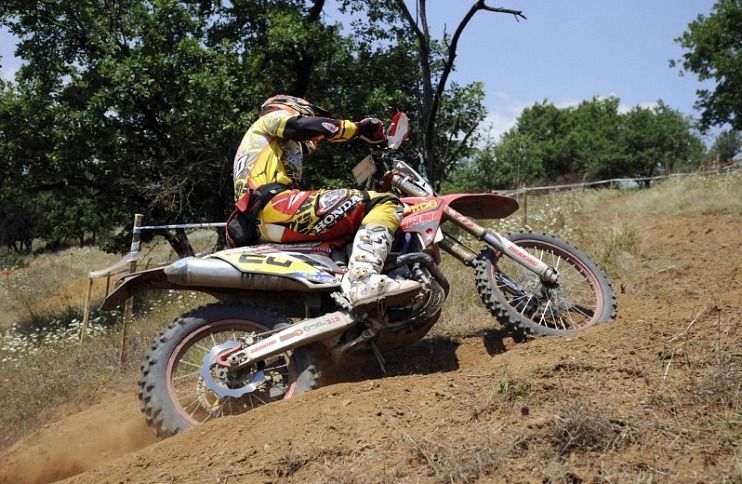 Mika Ahola:
"I wanted to give more, but my physical condition was not allowing me, especially on Saturday. On Sunday I made even more difficult for myslef because the suspension settings we chose did not allow me to be aggressive as I wanted. The two 3rd places are still a good result. You can not always win and this positioning still keeps me in charge in the championship."
Event results - Round 5 - Race 1
| | | | | | |
| --- | --- | --- | --- | --- | --- |
| 1 | Christophe Nambotin | 1:06:09.08 | FRA | GAS GAS | Gas Gas Team |
| 2 | Joakim Ljunggren | +1:13.07 | SWE | HUSABERG | Husaberg Factory Racing Team |
| 3 | Mika Ahola | +1:15.33 | FIN | HONDA | Team HM Honda Zanardo |
| 4 | Kurt Caselli | +1:16.04 | USA | KTM | KTM Enduro Factory Team |
| 5 | Alex Salvini | +1:25.49 | ITA | HUSQVARNA | Husqvarna CH Racin Monster Energy |
| 6 | Oriol Mena | +1:33.54 | ESP | HUSABERG | Husaberg Factory Racing Team |
| 7 | Sebastien Guillaume | +2:02.30 | FRA | HUSQVARNA | Husqvarna CH Racin Monster Energy |
| 8 | Marko Tarkkala | +3:02.26 | FIN | HUSABERG | Husaberg Factory Team |
| 9 | Jordi Figueras | +3:26.60 | SPA | GAS GAS | Gas Gas Team |
| 10 | Alessandro Botturi | +4:18.50 | ITA | GAS GAS | FEG SRL |
| 11 | Maurizio Facchin | +4:34.61 | ITA | HONDA | Team HM Honda Zanardo |
| 12 | Marcus Kehr | +4:45.60 | GER | KTM | KTM Enduro Supported Team |
| 13 | Fabio Mossini | +5:37.34 | ITA | BETA | Beta Factory Team |
| 14 | Jonas Karlsson | +5:42.69 | SWE | KTM | No Name - KTM |
| 15 | Vasileios Siafarikas | +8:23.48 | GRE | HONDA | Team HM Honda Zanardo |
| 16 | Nikolaos Liosis | +29:21.47 | GRE | KTM | No Name - KTM |
| 17 | Jakob Morhed | DNF | SWE | KTM | No Name - KTM |
Event results - Round 5 - Race 2
| | | | | | |
| --- | --- | --- | --- | --- | --- |
| 1 | Christophe Nambotin | 1:07:34.09 | FRA | GAS GAS | Gas Gas Team |
| 2 | Kurt Caselli | +1:11.37 | USA | KTM | KTM Enduro Factory Team |
| 3 | Mika Ahola | +1:16.11 | FIN | HONDA | Team HM Honda Zanardo |
| 4 | Joakim Ljunggren | +1:17.38 | SWE | HUSABERG | Husaberg Factory Racing Team |
| 5 | Alex Salvini | +1:58.07 | ITA | HUSQVARNA | Husqvarna CH Racin Monster Energy |
| 6 | Oriol Mena | +2:33.66 | ESP | HUSABERG | Husaberg Factory Racing Team |
| 7 | Marko Tarkkala | +3:04.76 | FIN | HUSABERG | Husaberg Factory Team |
| 8 | Fabio Mossini | +3:11.29 | ITA | BETA | Beta Factory Team |
| 9 | Jordi Figueras | +4:50.10 | SPA | GAS GAS | Gas Gas Team |
| 10 | Maurizio Facchin | +5:51.09 | ITA | HONDA | Team HM Honda Zanardo |
| 11 | Jonas Karlsson | +6:18.65 | SWE | KTM | No Name - KTM |
| 12 | Marcus Kehr | +6:52.30 | GER | KTM | KTM Enduro Supported Team |
| 13 | Vasileios Siafarikas | +8:44.20 | GRE | HONDA | Team HM Honda Zanardo |
| 14 | Sebastien Guillaume | DNF | FRA | HUSQVARNA | Husqvarna CH Racin Monster Energy |
| 15 | Alessandro Botturi | DNF | ITA | GAS GAS | FEG SRL |
| | | | | | |
| --- | --- | --- | --- | --- | --- |
| 1 | Mika Ahola | 234 pts | FIN | HONDA | Team HM Honda Zanardo |
| 2 | Christophe Nambotin | 201 pts | FRA | GAS GAS | Gas Gas Team |
| 3 | Joakim Ljunggren | 184 pts | SWE | HUSABERG | Husaberg Factory Racing Team |
| 4 | Marko Tarkkala | 166 pts | FIN | HUSABERG | Husaberg Factory Team |
| 5 | Oriol Mena | 149 pts | ESP | HUSABERG | Husaberg Factory Racing Team |
| 6 | Sebastien Guillaume | 144 pts | FRA | HUSQVARNA | Husqvarna CH Racin Monster Energy |
| 7 | Jordi Figueras | 115 pts | SPA | GAS GAS | Gas Gas Team |
| 8 | Alex Salvini | 93 pts | ITA | HUSQVARNA | Husqvarna CH Racin Monster Energy |
| 9 | Fabio Mossini | 79 pts | ITA | BETA | Beta Factory Team |
| 10 | Marcus Kehr | 74 pts | GER | KTM | KTM Enduro Supported Team |
| 11 | Jonas Karlsson | 73 pts | SWE | KTM | No Name - KTM |
| 12 | Maurizio Facchin | 70 pts | ITA | HONDA | Team HM Honda Zanardo |
| 13 | Alessandro Botturi | 67 pts | ITA | GAS GAS | FEG SRL |
| 14 | Maurizio Micheluz | 54 pts | ITA | FANTIC | Fantic Motor Scuderia Doimo Cityline |
| 15 | David Knight | 47 pts | GBR | KTM | KTM Enduro Factory Team |
| 16 | Tadeusz Blazusiak | 43 pts | POL | KTM | KTM Enduro Factory Team |
| 17 | Juan Perez de la Torre | 43 pts | ESP | KTM | No Name - KTM |
| 18 | Rudy Cotton | 40 pts | FRA | GAS GAS | Gas Gas Proracing Team |
| 19 | Kurt Caselli | 40 pts | USA | KTM | KTM Enduro Factory Team |
| 20 | Jakob Morhed | 33 pts | SWE | KTM | No Name - KTM |
| 21 | Jordi Viladoms | 22 pts | ESP | YAMAHA | Yamaha O.Pons Team |
| 22 | Serkan Ozdemir | 19 pts | TUR | KTM | No Name - KTM |
| 23 | Vasileios Siafarikas | 14 pts | GRE | HONDA | Team HM Honda Zanardo |
| 24 | Andrea Belotti | 14 pts | ITA | HUSABERG | No Name - Husaberg |
| 25 | Kunter Kusco | 9 pts | TUR | KTM | No Name - KTM |
| 26 | Nikolaos Liosis | 5 pts | GRE | KTM | No Name - KTM |
| 27 | Matteo Zecchin | 4 pts | ITA | FANTIC | Fantic Motor Scuderia Doimo Cityline |
| 28 | Christian Espana | 3 pts | AND | TM | Moto Equip TM |